NASA satellite images reveal shocking proof of climate engineering around the world   By Strange Sounds -Jan 25, 2019
In regard to difficult to accept and unpleasant truths, a picture is worth a thousand words. The photo images shown below were captured from NASA satellite sources, they are truly alarming. These images provide shocking and undeniable proof of the ongoing global climate engineering/geoengineering/solar radiation management assault on our planet and its life support systems.
Highly toxic heavy metals and chemicals that are systematically sprayed into our atmosphere from jet aircraft as part of the geoengineering / solar radiation management (SRM) programs, are manipulated with extremely powerful radio frequency signals. These signals are transmitted from countless locations around the globe from various types of transmission platforms (ionosphere heater installations like HAARP, SBX radar, NEXRAD, etc.). The impact of the microwave transmissions on cloud formations is profound and highly visible (square cloud formations are created under some scenarios). 
In the series of NASA satellite images below, many variances of radio frequency cloud impacts can be observed. The degree to which the ongoing climate engineering/climate/intervention/weather warfare is disrupting Earth's atmosphere and life support systems is already beyond catastrophic and rapidly escalating all over the globe.
Climate Engineering off East Coast of Australia 
Climate Engineering off West Coast of Africa 
Climate Engineering off Africa's West Coast
More Climate Engineering off West Coast of Africa
                 Another one of West Coast of Africa
                   South of Spain in the Alboran Sea
              Northwest Coast of Australia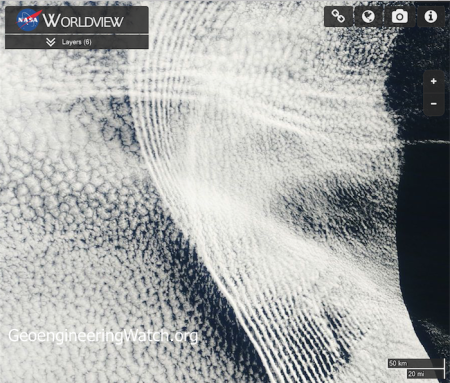 Off of West Coast of Africa
                         Off Africa's West Coast
                 Eastern Pacific Ocean West of Baja California
               Southern Ocean near Antarctica
Hurricane suppression/manipulation is one aspect/agenda of the climate engineers. 85% of the hurricanes that impact the US originate from Africa. Low pressure systems migrate toward the west, off of Africa's coast. A great
Fdeal of climate engineering/intervention takes place in this region, thus a number of the satellite images shown in this post were captured there. In the attempt to mask the climate intervention activity, the cyclone suppression occurring off the coast of Africa is officially blamed on "dust". Of course there is no acknowledgement of the ongoing climate engineering atrocities.